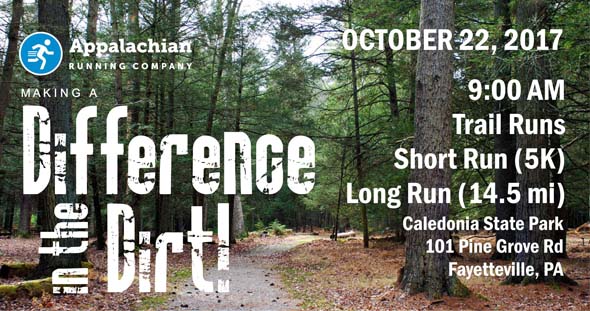 Doin' it for Douglas!
The DIFFERENCE IN THE DIRT trail run combines scenic trails, breathtaking views, challenging courses with goad deeds and charitable giving.

Striving to Make a Difference...
Everyone should try to strive to make a difference in their HEALTH, FAMILY, and COMMUNITY. What better way to do that than get outside and enjoy nature! Not only will you get to see the beauty in and around Caledonia State Park you'll make a difference in someone's life!

All PROCEEDS go to the A-T Children's Project which educates and raises funds for a cure for ataxia-telangiectasia, a rare genetic disease.

WHY this nonprofit?
Because it's near and dear to Appalachian Running Company and one of its employees! Learn more at www.atcp.org or talk with Doug, who is always the employee with the big smile on his face!



Events
Long




Short




Entry Fees
Registration
Online registration is not available from Timber Hill Timing for this event.

Same day registration and packet pickup will begin at 8:00 AM at the Caledonia State Park, 101 Pine Grove Rd, Fayetteville, PA. Registration closes 15 minutes before the event starts, please be considerate of others and register on time.
Register by 10/7 to guarantee your shirt
Event Links
Event Web Site

Your Hosts

This event is hosted by the Appalachian Running Company with proceeds benefiting the A-T Children's Project.

Established in the United States in 1993, the A-T Children's Project is a 501c3 nonprofit organization that raises funds to support and coordinate biomedical research projects, scientific conferences and a clinical center aimed at finding life-improving therapies and a cure for ataxia-telangiectasia (A-T). A-T is a rare, genetic disease that attacks children, causing progressive loss of muscle control, cancer, and immune system problems.


Contact
For more information or to volunteer contact at Josh@appalachianrunningco.com or by phone at (717) 241-5674